keep up. But perhaps that is from moving cross country twice in the past 6 months.
I got to spend a lot of very much needed time with my family in NJ while working for Digital Embryo creating games. The entire experience was another great leap for me mentally and artistically. I can definitely understand what elders mean now when they say life passes you by so fast. I think what it is, is that each part gets condensed into a scrap book of moments and once it's over it's gone. When I am in the same place for an extended period of time I don't notice it go by much, but with all this traveling and short term experiments I am seeing life in an expedited time frame.
I am still trying to zero in on who I am as a person and perhaps allowing myself to jump into the worlds that my art creates I will find someone I love on the other side.
Here are 2 pieces that I created since being home. They were both experiments with mediums so that I can try and find where I feel most comfortable. I am on a third piece now and I am so far labeling it as the piece that showed me what I DIDN'T like..
This bear is not done yet. I am still waiting to try another transfer method tonight.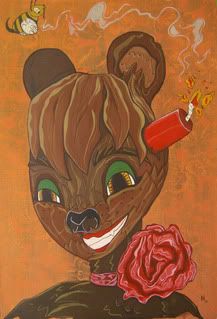 I can see Machinarium influence all over this piece. It is a fantastic puzzle game, get it! This is where I hang my keys.