Hello internet world.
A few months ago I got hooked up with an amazing woman named Laurie who runs a non profit called
Art and Creativity 4 Healing
. She helps children, teens and adults work through anger, stress, grief and confusion by giving them some art tools, instruction and compassion.
My first volunteer experience was at Camp Pendleton which is a Marine Base near my home. I got to work with children whose parents are in the military and encourage them to draw. It was fantastic, because I find my time spent with children inspiring and I hope to inspire them as well. Tomorrow night is a fund raiser and I am donating a piece of art to help out. I will also be volunteering there and meeting lots of new people so I feel like tomorrow will be a great night!
Here is the piece that I did for the event. I treated it more of a commercial piece and not so much as a fine art piece because I want it to serve my intended purpose before it serves someone else. I am really enjoying working with the watercolor and ink so I am going to need to learn how to control it better.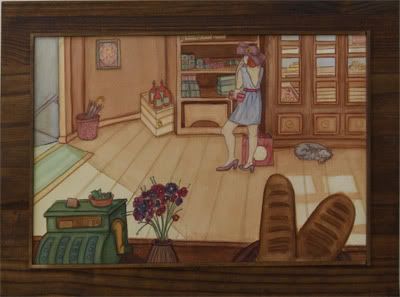 Another thing that is coming into my life... wood. So think about that until the next update.